Sunset and a romantic dinner on board!
Feel your heart's vibrations!!
Sunset time
As your eyes are diving in the summer sunset's colors, a perfect cocktail will be prepared especially for you.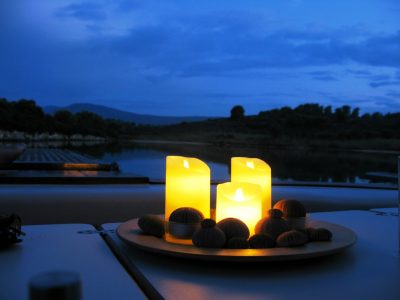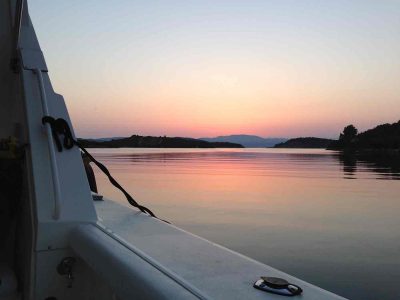 Imagine a sequestered moorage, the smell of pines by the seashore, only the sky and the moon above you, having after a night swim in the moonlight river, a magnificent romantic dinner on board.
With the best to eat and drinking vintage wine of excellent choice, you will experience special feelings and relationships evolving.  
This is the way to enjoy life beyond every day's limits.
All these are waiting for YOU to LIVE the DREAM,
waiting for YOU to feel the freedom witch only life in the sea can give you.
Absorb the unique energy provided during this experience and get the most of it by scheduling this trip as you please.
We will be there for you and gladly help you on this matter at every moment.

Final information was kept for you as a SURPRISE.
Except for your captain's skills as a skipper, he is also an excellent chef. He will select vintage wines and prepare especially for you, an exclusive and exquisite dinner! Or he will embrace and fulfill your personal choice! 
Choose one of our one-day or multi-day cruises or create a custom made cruise as syou please.
Choose one of our standard menus or
create a menu according to your selection.
Our yacht has a capacity of 10 individuals. We can arrange cruises for groups of up to 20 people by collaborating with a second yacht.
Charter one of our motor yachts for up to 10 people or both yachts at a special price for groups up to 20 people.